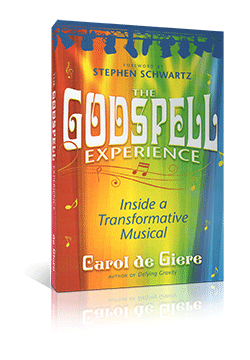 Enjoy insights from original cast members and composer Stephen Schwartz in this photo-filled book on Godspell.
The Godspell Info Blog  •  Fun Facts & Behind the Scenes Stories!
Stephen Schwartz's credit for Godspell is  "music and new lyrics." On this list of lyric sources, you'll see which song lyrics were adapted or drawn from hymns, and which were original to Schwartz. "Prologue": various philosophical sources adapted by Tebelek, revised...
read more
The Godspell movie will be part of the Easter lineup on the Turner Classic Movies channel this year, as it often is. (It's on DVD as well.) On screen, the actors in this festive musical tumble around an oddly empty New York City singing the buoyant Stephen Schwartz score and performing an adaptation of the stage production. This year, Godspell fans have a chance to learn of the making of the movie, as explored in a 21-page chapter in the new book The Godspell Experience. For those who haven't yet picked up the book, here are a couple of the behind-the-scenes stories about the movie development.
read more